Benefits & Advantages of Dental Implants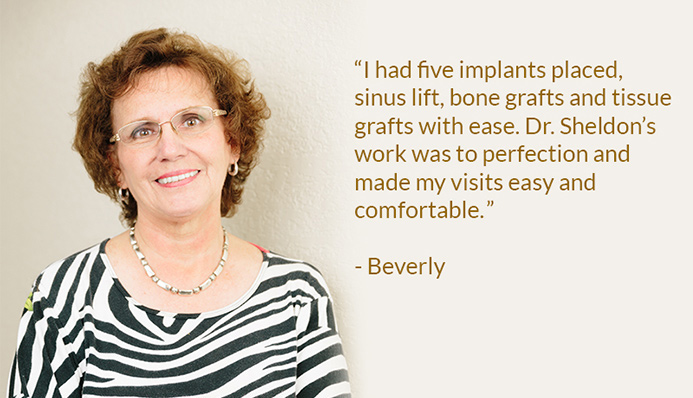 The 21st century gold standard for replacing missing teeth
Are you the kind of person who would rather not wear dental bridges or dentures? Then you'll be glad to know that dental implants are natural-looking, -feeling and -acting replacements for missing teeth. They look much more lifelike than bridges or dentures and can last much longer. And with dental implants, you can chew anything you want and eat like a kid again!
Benefits/advantages of dental implants
At first, patients with just the right oral conditions and a certain level of health were the only candidates for dental implants. After half a century of research, new technology has been devised that makes the implant process suitable for practically anyone. Furthermore, it's safer and less invasive than ever before.
Today, with improvements in implant technology, implants are viewed by the dental community as the gold standard in long-term tooth replacement. Dr. Lee Sheldon and Dr. Michel Furtado have solid training and experience in implant placement and use the latest equipment and techniques to optimize results.
Dental implants can be used when:
A single tooth is missing – instead of a bridge
Several teeth are missing – instead of bridges or partial dentures
All teeth are missing – instead of dentures
Dental implants vs. dentures
The problems with conventional dentures
Dentures have to be removed every day for cleaning, and they can require adhesives to keep them in place.
Dentures often make a clicking sound while the person is eating, which can be annoying to you and others present.
Dentures can slip out during eating or speaking, while implants are anchored and permit you to eat and speak with confidence.
Dentures are fairly bulky and cover the roof of the mouth (palate), which can feel uncomfortable and can interfere with speech and the sensation of taste.
Dentures are unstable and can move during chewing. They are also incapable of allowing for the same chewing forces as natural teeth. Denture users are forced to restrict their diets. Since they may end up avoiding solid foods like fruits, vegetables, nuts and meats, their health can be compromised.
Probably the most serious issue with dentures, and leaving teeth un-replaced, is bone loss. Teeth and their chewing action are an integral part of the health of the jawbone. When a tooth is lost, the supporting bone loses its stimulation and proceeds to decrease in density and volume. Research estimates that 25 percent of bone loss occurs in the first year and continues on. Implants help maintain your jawbone.
Bone loss effects facial aesthetics. The facial height between the tip of the nose and chin can decrease, causing dramatic facial changes. These include pronounced wrinkles around the mouth, thinning lips, drooping curvature of the lips and sagging facial skin. These changes happen with age but are vastly sped up in the case of bone loss.

Dental implants vs. dental bridges for single or a few missing teeth
The advantages of implants over bridges
With dental implants your mouth will be restored as closely as possible to its natural state.
Teeth that have been ground down in order to place a bridge can be weakened, more sensitive and more likely to decay.
With a dental implant there is no necessity to touch healthy adjacent teeth. A dental implant, like a natural tooth, preserves jawbone.
Bridges tend to have a shorter life span than dental implants. Bridges can be expected to last, on average, 10 to 12 years with good oral hygiene and regular checkups. Dental implants, however, cared for properly (like natural teeth), can potentially last up to around 20 years or longer.
Training and competency you can count on
Dr. Lee Sheldon and Dr. Michel Furtado have extensive advanced training in dental implants. Our office has been selected as a test site for advancing grafting technology. Drs. Sheldon, Sheldon, and Furtado have authored a book, The Ultimate Mouth Manual (downloadable for free here), which has received acclaim from dental specialists across the country. Dr. Sheldon was an associate clinical professor in the graduate department of periodontology at the University of Florida College of Dentistry.
Experience that makes the difference
In addition to his advanced training, Dr. Sheldon has over 25 years of dental implant experience. Dr. Furtado is a diplomate of the American Board of Periodontology. They can place implants for single tooth replacement, multiple tooth replacement, snaps to support dentures, or complete fixed-in teeth. They use only top-grade titanium, titanium alloy, or all-zirconia ceramic implants. They also use computer-designed surgical guides, which makes for less invasive surgery and better implant placement.
New Patient Special Offer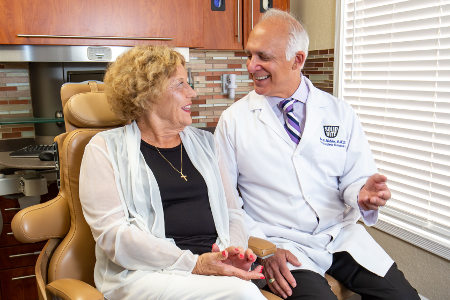 The first step in getting your dental implants is a dental implant exam and evaluation with our team of dentists led by Dr. Lee Sheldon.
Comprehensive oral exam
Digital X-rays
3D CT Scan
Gum disease charting
Oral cancer screening
Discuss your treatment options
Get any questions answered
Get a second opinion
For only $79. Normally $424.
Implant testimonial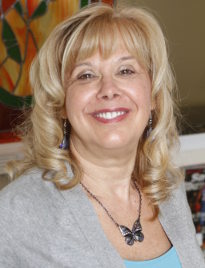 "I can now smile with confidence and am no longer ashamed of my teeth. Dr. Sheldon listens, understands and works to accomplish your needs.
"If another dentist tells you it can't be done, don't give up. Go see Dr. Sheldon."
– Peggi C.