Contact Us
Serving Brevard County in the same location for over three decades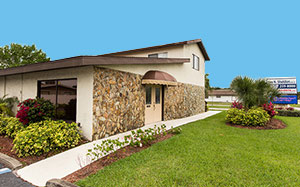 Dr. Lee Sheldon, DMD, PA
2223 Sarno Road
Melbourne, FL 32935-3003
Phone: 321.802.2810
Fax: (321) 259-9336
Patient Forms
Notice of Privacy Practices
Medical History
Office Policy
Directions To Office
Our friendly staff is committed to providing you with the best possible dental care in a comfortable and caring environment. We are interested in making your visit to the dentist as enjoyable as possible. Please use the following information to contact us.
Operating Hours
Monday: 7:00am – 6:00pm
Tuesday: 7:00am – 6:00pm
Wednesday: 7:30am – 6:00pm
Thursday: 8:00am – 5:30pm
Friday: 8:00am – 5:00pm
Emergencies seen right away
If you have an emergency during our normal business hours, we will see you as quickly as we can. We see emergency patients first, even when they are new patients.
Map & Directions
Request an Appointment
Call us at: 321.802.2810
Request an appointment online
Fill out the below form and click the "Submit" button. A staff member will contact you to schedule your appointment. If you leave a message or email us outside of our office hours, we will contact you during our next business day.