Teeth on the Very Same Day as Implant Placement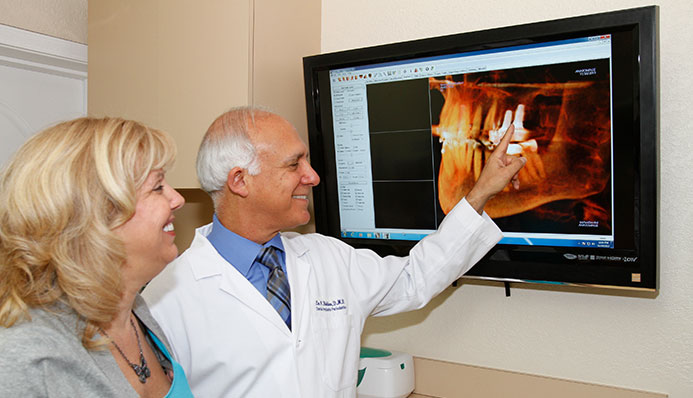 With new technology Dr. Sheldon can place a new set of teeth on the very same day as tooth extraction and implant placement!
With traditional implant treatment, you have to wait months for your implants to heal before having functional new teeth. Dr. Sheldon's Solid Bite Immediate is a new implant surgery system that streamlines the treatment process and provides you with teeth in record time.
This revolutionary system is fully computer enabled. The majority of work is done on the computer before you ever get to the office, so your surgery time is reduced. With Solid Bite Immediate, you can have extractions, implants, and teeth placed all on the same day. Denture wearers can have the same advantage with Solid Bite Immediate.
The first doctor in Central Florida to do the Teeth-in-an-Hour® procedure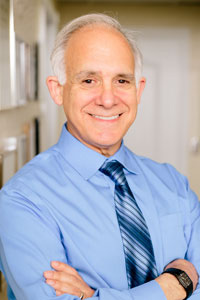 Instead of a denture flapping around inside his mouth, Robert Redfern now has a new set of permanent upper teeth which he got in less than an hour thanks to Dr. Lee Sheldon. Mr. Redfern was Dr. Sheldon's first Teeth-in-an-Hour® patient, and the first in all of Central Florida as well.
Nobel Biocare's advanced computer software enabled Dr. Sheldon to avoid having to do a sinus lift – a fairly common problem in implant procedures – in order to put a metal post in, thus saving Mr. Redfern from having to undergo surgery. In about an hour he had a new set of permanent teeth.
Mr. Redfern, a former high school physics teacher in upstate New York, had no complaints. He said that he didn't feel a thing because he was lightly anesthetized for the procedure. After the procedure he described his new teeth as just the same as having good natural teeth.
Dr. Sheldon has advanced that process even further with Solid Bite Immediate.
Who are candidates for Solid Bite Immediate?
Solid Bite Immediate can be used to replace one or more missing teeth. If you struggle with wearing dentures, have suffered tooth loss through gum disease or dental decay, have congenitally missing teeth or have lost teeth in a traumatic accident, you may be a candidate for Solid Bite Immediate.
The number of teeth involved, the type of teeth to be replaced and your dental health will help Dr. Lee Sheldon determine if you are indeed a candidate for Solid Bite Immediate. The best way to find out for sure if you are a candidate is to see Dr. Sheldon for a Dental Implant Exam and Evaluation.
New Patient Special Offer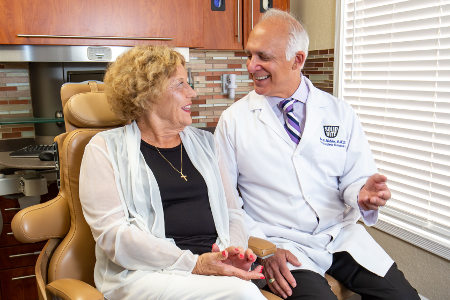 The first step in getting Solid Bite Immediate is a comprehensive exam, X-rays and consultation with our team of dentists led by Dr. Lee Sheldon.
Comprehensive oral exam
Digital X-rays
3D CT Scan (if needed)
Gum disease charting
Oral cancer screening
Discuss your treatment options
Get any questions answered
Get a second opinion
For only $79. Normally $424.
To make an appointment, call 321.802.2810 or click here to request an appointment online.
How Solid Bite Immediate works
Dr. Lee Sheldon uses a computer to preplan the Solid Bite Immediate procedure, customizing the placement of each implant inside the patient's mouth, using several images taken through a CT scan. By combining images inside his computer, Dr. Sheldon comes up with a design for the best spots for each implant. The design also helps to prepare new teeth ahead of time, so they are ready to go once the implants are placed.
The design then goes by email to our custom laboratory in California for creation of a surgical guide. The guide is what Dr. Sheldon temporarily places into the patient's jaw and later removes on treatment day. The guide enables him to drill the holes exactly where the implants are supposed to be. The end result is that the patient walks out with new teeth on the very same day!
Learn more about the Solid Bite procedure here.
To make an appointment, call 321.802.2810 or click here to request an appointment online.