Friendly, knowledgeable dentists who really care about their patients
Periodontist Dr. Lee Sheldon has worked hard to build up his dental practice and is proud to have staffed it with dentists who share his same passion for improving lives through advanced dentistry. Together Dr. Lee Sheldon and Dr. Matt Sheldon will take care of your every dental need.
From simple routine checkups to complete full-mouth rehabilitation using minimally invasive dental implants, our competent and experienced dentists can satisfy your dental needs gently, efficiently and comfortably.
Dr. Lee Sheldon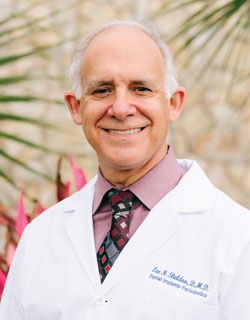 Periodontist, Dr. Lee Sheldon has provided comprehensive implant, periodontic and full-mouth rehabilitation dental services to area residents for over 30 years.
Education and advanced training
Dr. Lee Sheldon received his DMD from the renowned Tufts University School of Dental Medicine. He then went on to earn his certificate as a specialist in periodontics from the University of Connecticut School of Dental Medicine.
His additional training includes a dental general practice residency as a Captain at Fort Sill, OK. He went on to serve as a dental officer at the U.S. Army War College at Carlisle Barracks, PA. His advanced dental education also encompasses many formal programs in dental implants, reconstructive dentistry and cosmetics including extended training at the Medical College of Georgia.
Leadership in dental organizations
Dr. Sheldon has served in leadership roles in various dental organizations. He was the Chairman of the dental department at Holmes Regional Medical Center. He has chaired the Brevard Study Club since 1995, bringing dental continuing education to Brevard County dentists. And he is an associate clinical professor in the University of Florida College of Dentistry's graduate department of periodontology, where he helps train periodontists of the future.
At the forefront of dental innovations
Dr. Sheldon was the first dentist from central Florida to use computer-guided surgery for implant placement. He also was the first to use the dental endoscope to assist in the effective nonsurgical treatment of gum disease. These innovations have led to the Solid Bite concept, providing beautiful, functional and efficient dental restorations.
Author and columnist
Do you feel that there are no dental answers for you? In 2012 Dr. Sheldon and his son, Matt, authored the book, "The Ultimate Mouth Manual", available in book stores (downloadable for free here), which contains information patients need to make dental decisions in the 21st century!
Dr. Sheldon is also a regular contributor to the column, "Focus on Seniors" in the Health Section of Thursday's Florida Today. His topics range from dental care to overall health care. You can read the articles he has written by clicking this link. He is also a regular panelist on the Focus on Seniors programs on Bright House network and WMEL radio as well as a sought-after speaker on health care and nutritional topics.
Dr. Matt Sheldon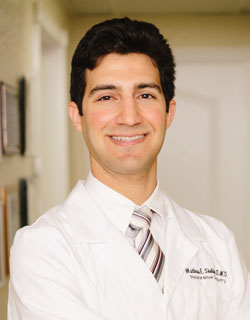 Dr. Matt Sheldon is an experienced and knowledgeable dentist who is here to help patients enhance their lives with crowns, bridges, dentures and cosmetic dental care.
Education and advanced training
Dr. Matt Sheldon received his Bachelor of Health Science at the University of Florida and went on to earn his Doctorate of Dental Medicine at the renowned Tufts University School of Dental Medicine. He also earned a Certificate in Advanced Education in General Dentistry from Texas A&M Health Science Center.
To keep up-to-date on the latest technology and treatment options in dentistry he is committed to continuing his education in order to provide the most effective and minimally-invasive dental care possible. Additionally, he is a member of numerous professional dental affiliations, including the American Dental Association, the Academy of General Dentistry, and the Florida Dental Association, which provide him with many opportunities to further his knowledge of dentistry.
Dr. Michel Furtado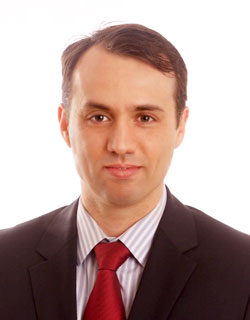 Dr. Furtado shares the same passion for patient-centered care and state of the art periodontal and implant therapy that Dr. Sheldon has become known for. Dr. Furtado enjoys the challenges of the ever-changing fields of periodontal and dental implant treatments. His commitment to providing the highest quality periodontics is a great asset to our office.
Education and advanced training
Dr. Michel Furtado obtained his Bachelor of Dental Surgery in Brazil in 2003. Since then, Dr. Furtado has dedicated a considerable time to active research activity and its application to Clinical Dentistry. His academic work was presented at international Conferences and culminated with the licensing of a patent on the formulation of a gel for the controlled release of antimicrobials to be used in periodontal surgery.
In 2008, Dr. Furtado has completed his Master of Science degree at the University of Toronto in Canada under the supervision of Dr. John E. Davies (world leader in Bone Biomaterials and Stem Cell research). During his time at the University of Toronto, Dr. Furtado held the position of teaching assistant in Oral Biochemistry, Head and Neck Anatomy, and Bone Interfacing Implants.
Dr. Furtado completed his specialty residency in Periodontics and Masters in Dental Science at the University of Connecticut (UConn).  During his time at UConn, Dr. Furtado received the Auxiliary Scholarship Award, a great honor given to the top residents among all specialty programs. In addition, Dr. Furtado's clinical research was selected as one of the four finalists at the prestigious American Academy of Periodontology Orban Competition.
Dr. Furtado has published 11 scientific articles in peer-reviewed journals, including Clinical Oral Implants Research, Biomaterials, Clinical Advances in Periodontics, and Dental Materials.
For the 3 years of his specialty training, Dr. Furtado's interdisciplinary approach (with general dentists, endodontists, prosthodontists, and orthodontists) honed his skills in the treatment planning of complex and comprehensive clinical cases. In addition, Dr. Furtado obtained advanced training in conscious sedation (intravenous and oral).
Dr. Furtado also has the distinction of Diplomate of the American Academy of Periodontology as a Board Certified Periodontist.
Dr. Furtado is our surgeon. As a SolidBite team member, he enjoys being part of our patients' treatments from start to finish.
Outside the office
Dr. Furtado enjoys travelling, music, chess, and soccer. When not in motion, Dr. Furtado loves spending time with his beloved wife Michelle and his 1-year old daughter Alice.
Education, Professional Affiliations, and Honors
B.D.S. Federal University of Minas Gerais (2003)
Undergraduate Research Scholarship (Brazilian National Research Council)
M.Sc. University of Toronto (2008)
University of Toronto Scholarship
T-Holders' Enamel Academic Excellence Pin (awarded to athlete-students based on their academic performance)
Certificate in Periodontics, University of Connecticut (2013)
Masters in Dental Science, University of Connecticut (2013)
Auxiliary Scholarship (University of Connecticut Health Center)
Finalist at the AAP Orban Competition (Clinical Research)
To make an appointment, call 321.802.2810 or click here to request an appointment online.