Dentures in Melbourne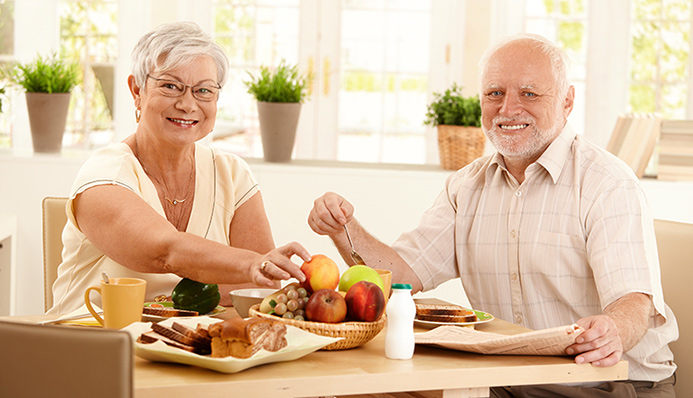 Comfortable dentures that look natural
Dr. Sheldon offers the latest in natural-looking full and partial porcelain dentures; dentures that will fit right, be completely comfortable and allow you to speak and chew your food with confidence. He also offers the superior support of implant-supported dentures. These give you the stability, durability and chewing power of regular teeth.
Dr. Matt Sheldon is trained and experienced in creating dentures that are comfortable and won't slip, all while looking great cosmetically!
Types of dentures we offer
Our doctors have advanced training and years of experience in creating beautiful dental prosthetics (artificial teeth). They use only top-quality materials and offer custom shading, shaping, fitting and alignment for a very natural look. Their attention to quality and custom-fit assures you of getting a set of durable, well-fitting dentures.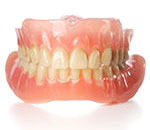 Full dentures
Our traditional full dentures are made to fit well and look great.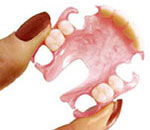 No-metal partial dentures
We also offer no-metal partials, including ones that have a more cosmetic clasp. With our no-metal partials, no one will even notice that you are wearing a partial denture.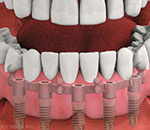 Implant-supported dentures
A conventional denture is hard to use for some patients since they tend to slip. An implant-supported denture is removable and fits over a bar placed in the jaw and is then securely clipped into place by attachments. Many people discover that their confidence is improved with implant-supported dentures because of improved esthetics and well as better function when it comes to eating and speaking.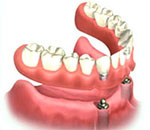 Denture stabilization using implants
Your current dentures can be stabilized by placing a couple of implants with snaps on the lower and four implants with snaps on the upper arch of your mouth. Click here to learn more about denture stabilization.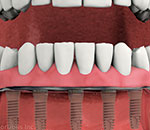 Solid Bite℠
The Solid Bite procedure enables you to replace missing teeth or replace your loose, uncomfortable dentures with stable, comfortable teeth fixed with dental implants. Solid Bite gives you back the chewing power of real teeth. Click here to learn more about Solid Bite.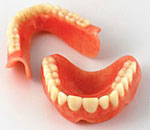 Immediate dentures
There's no reason to leave our office without teeth after a teeth extraction visit, not when we can fit you with attractive, comfortable temporary dentures.
Read about the advantages of dental implants here.
To make an appointment, call 321.802.2810 or click here to request an appointment online.