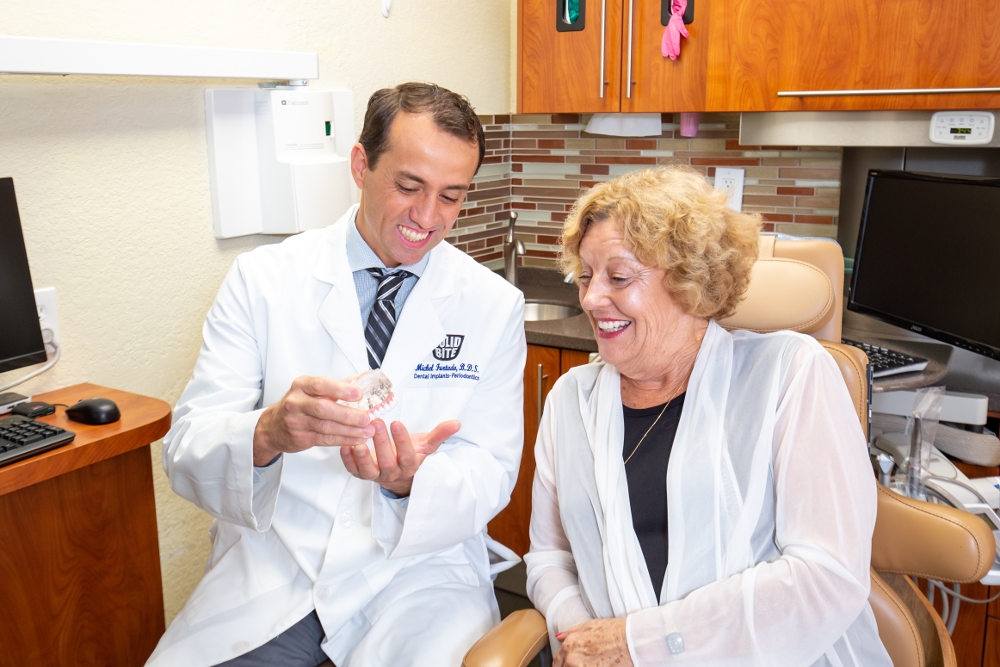 Get completely stable Dentures with Dental Implants
Are you having a problem with your dentures? Hundreds of thousands of denture wearers now enjoy the confidence and quality of life that denture stabilization with dental implants brings. An implant is an artificial tooth that's anchored in the gums or jawbone to replace a missing tooth.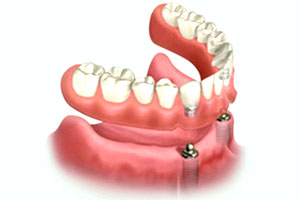 By placing a couple of implants with snaps on the lower arch of your mouth and four implants on the upper arch, Dr. Lee Sheldon can stabilize your dentures, giving you more stability and stopping slippage. This "snap-on denture" improves your ability to speak and chew.
Dentures can be stabilized with as few as just two implants by Dr. Sheldon. The more implants used, the greater your denture's stability. Often, the only anesthetic needed for implant surgery is an injection right over the position in the gums where the implant will be placed.
Training and experience you can count on
Dr. Lee Sheldon received his DMD from the renowned Tufts University School of Dental Medicine. He then went on to earn his certificate as a specialist in periodontics from the University of Connecticut School of Dental Medicine.
Over the years Dr. Sheldon and his entire team have become the "go-to" office for people who need advanced dental implant care. He teaches and writes about dental implants, bone and soft tissue reconstruction. Whether it's the simplest or most complex missing tooth problem, you are in experienced hands.
You can chew and eat like a kid again
Through denture stabilization you can have dentures that won't slip when you eat! Imagine not having to manipulate your tongue and lips to keep your denture from slipping. It can be life changing. Our team of experts will help you select the right dental implant solution for you.
Learn about all the benefits of stabilizing your dentures with implants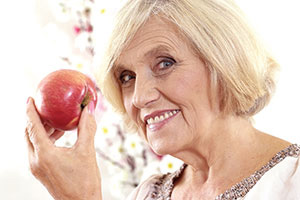 If you currently have dentures you will probably be glad to know Dr. Lee Sheldon can retrofit those dentures over a few implants to stabilize them. So not only will your existing dentures become more comfortable, but you'll also be able to chew a lot better, too.
Some of the benefits of using implants to stabilize your dentures are no slippage, extra security, ability to chew almost like you did with natural teeth, less denture covering the roof of your mouth.
Who are candidates for denture stabilization?
Almost everyone who is missing teeth still has enough jaw bone for a snap-on denture. And with his modern dental CT-scans, Dr. Lee Sheldon can often find good implant-supporting bone that can't be seen on traditional X-rays.
This means that if you've been missing teeth for years, you still qualify for an implant-supported snap-on denture.
New Patient Special Offer
The first step in getting your dental implant-supported snap-on denture is a comprehensive exam, X-rays and consultation with our team of dentists led by Dr. Lee Sheldon.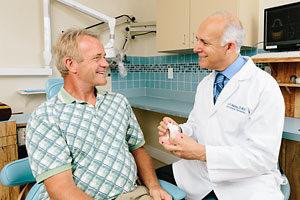 Comprehensive oral exam
Digital X-rays
3D CT Scan (if needed)
Gum disease charting
Oral Cancer Screening
Discuss your treatment options
Get a second opinion
Get any questions answered
For only $79. Normally $424.
Our denture stabilization procedure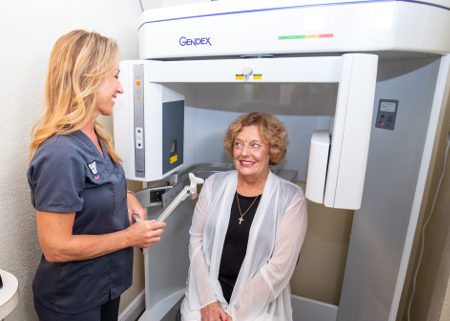 Dr. Sheldon makes a small incision into the gum area and removes any rough areas of bone that could cause irritation. A small hole is made into the bone. The implant is screwed into place. The remaining implants are then placed in a similar fashion. Small stitches that will melt away in a few days are then placed.
Relining your snap-on denture
Next, the inside of your denture is hollowed out to create room for silicone reline material. Dr. Sheldon then places the reline material into the denture and then places the denture in the patient's mouth, allowing it to set over the snap portions of the implants. The denture is then removed, excess silicone is trimmed away and the denture is seated back in the patient's mouth. The entire denture stabilization process takes less than two hours.
To make an appointment, call 321.802.2810 or click here to request an appointment online.