With our Solid Bite℠ implant dentures procedure you can have teeth that function and look like natural teeth
Solid Bite, an innovation of Dr. Sheldon, enables you to get a new, permanent, full arch of teeth fixed in place using dental implants. Your new teeth are comfortable, stable and won't move when you eat and speak.
Well over 100 dentists have referred their patients to Dr. Lee Sheldon for his dental implant expertise. He has over 25 years experience working with dental implants. And you can get the whole procedure done right in our office.
What are Solid Bite implant dentures?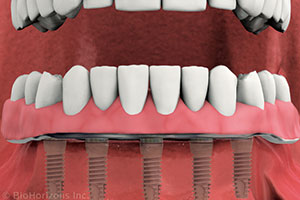 For years people have asked for an answer to dentures and to missing and decayed teeth. That answer is available today. It's called Solid Bite. Solid Bite can convert nearly every removable denture wearer into one with permanent, fixed teeth.
Solid Bite was born out of experience that we had with our patients. Patients arrived with dentures that were uncomfortable, that covered the roofs of their mouths. And on the lower arch the situation was even worse. People were trying to balance dentures with their tongues and with their lips. They couldn't eat. They couldn't chew. They were getting poor nutrition.
With the Solid Bite procedure your new teeth are secured with dental implants giving you the stability and strength of real teeth.
New Patient Special Offer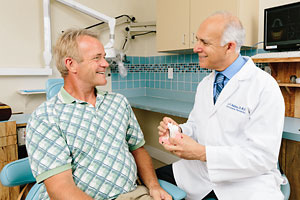 The first step in getting the Solid Bite procedure is a comprehensive exam, X-rays and consultation with our team of dentists led by Dr. Lee Sheldon.
Comprehensive oral exam
Digital X-rays
3D CT Scan (if needed)
Gum disease charting
Oral cancer screening
Discuss your treatment options
Get any questions answered
Get a second opinion
For only $79. Normally $424.

To make an appointment, call 321.802.2810 or click here to request an appointment online.
The Solid Bite implant dentures procedure
The key to Solid Bite is correct diagnosis and treatment planning. Dr. Sheldon and his team of doctors and staff members have been doing this kind of work for years.
A dental implant is only part of the process. Precise placement of the dental implant and precise planning to support your new teeth is actually a bigger part of the process. And whether you choose to extract all of your teeth or to keep some of your teeth, planning and predictability are what is most important.
Consultation
Your first step is to come in for a Dental Implant Exam and Evaluation. We will answer all of your questions and address your specific needs and concerns.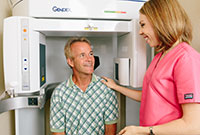 CT scan
We take 3D CT Scan images to get a detailed view of your jaw structure for planning the implant placement. We will also thoroughly explain the Solid Bite implant procedure and answers any questions you have about it.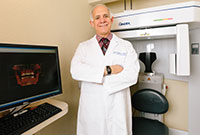 Treatment planning
The first phase of a Solid Bite implant begins well before the surgical procedure. Treatment planning is a must and includes measurement of supporting bone through our in-house dental CT scan and associated computer software.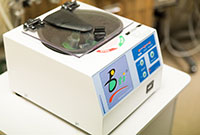 Ultramodern bone grafting
If bone grafting is needed to build up the jaw we use Plasma Rich in Growth Factors (PRGF) to speed up the bone grafting healing process. And, with his advanced techniques, Dr. Sheldon can usually do the grafting at the same time he places the implant.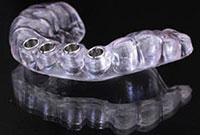 Surgical guides and implant placement
Using leading-edge computer software, surgical guides are created to ensure precision placement of your implant posts. Solid Bite implants placed with custom computer-generated surgical guides are incredibly accurate, compared to "freehand" implant placement.
Not only do the guides take the guesswork out of implant surgery, they also make your surgery minimally invasive. Often, no incision is needed and no suturing is required.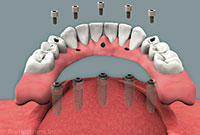 Placement of your teeth
After your implants are in place you will receive a temporary set of teeth for use until your gum tissues have fully healed, at which time your permanent teeth will be placed. You will be able to chew and smile as you haven't been able to do, and that's the key to Solid Bite!
Three levels of Solid Bite implant dentures
There are different levels of Solid Bite treatment. There is the Solid Bite Hybrid which fastens beautiful teeth, contoured gum tissue appearing material, with a solid metal foundation. You can smile, eat, and laugh normally without the roof of the mouth covered on the upper arch and without worrying about loose upper or lower dentures.
Then there's Solid Bite Premium made of beautiful glazed ceramic. It is made in one piece with customized and shaded porcelain veneers that appear literally lifelike. The all ceramic prosthesis is the most resistant to breakage and has the most lifelike appearance.
Both are fastened directly to dental implants. They can only be removed by the dentist.
Then there is Solid Bite Immediate. Solid Bite Immediate is an interim set of teeth. In other words, on the day the dental implants are placed you can have temporary teeth that are firmly fixed to the implants. That's right. That means extractions, implants, and tooth placement all on the same day. Then once your gum tissues have healed, you can either have Solid Bite Hybrid or Solid Bite Premium completed. You never have to wear a denture again from the moment of surgical treatment. All of that treatment can be done under our roof with our team of specialists and general dentists to help you.
Click here to learn more about Solid Bite Immediate for teeth on the very same day as your implant placement.
Solid Bite Before and Afters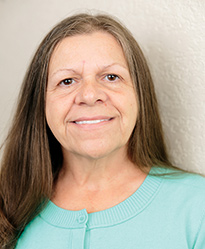 "As soon as I walked in the door I felt very comfortable. The staff is friendly and professional. Dr. Sheldon came up with a plan for my dental issues right away and worked diligently to complete the job. I was never in pain and his positive attitude made the entire process much nicer than I ever thought."
– Paula H.
To make an appointment, call 321.802.2810 or click here to request an appointment online.