Solid Bite℠ Teeth Replacement
With our Solid Bite℠ procedure you can have teeth that function and look like natural teeth
Solid Bite, an innovation of Dr. Sheldon, enables you to get a new, permanent, full arch of teeth fixed in place using dental implants. Your new teeth are comfortable, stable and won't move when you eat and speak.
Well over 100 dentists have referred their patients to Dr. Lee Sheldon for his dental implant expertise. He has over 25 years of experience working with dental implants. And you can get the whole procedure done right in our office.
What is Solid Bite?
For years people have asked for an answer to dentures and to missing and decayed teeth. That answer is available today. It's called Solid Bite. Solid Bite can convert nearly every removable denture wearer into one with permanent, fixed teeth.
Solid Bite was born out of experience that we had with our patients. Patients arrived with upper arches that were uncomfortable and covered the roofs of their mouths. With the lower arch, the situation was even worse. People were trying to balance dentures with their tongues and with their lips. They couldn't eat. They couldn't chew. They were getting poor nutrition.
With the Solid Bite procedure your new teeth are secured with dental implants, giving you the stability and strength of real teeth.
New Patient Special Offer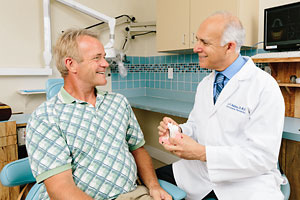 The first step in getting the Solid Bite procedure is a comprehensive exam, X-rays and consultation with our team of dentists led by Dr. Lee Sheldon.
Comprehensive oral exam
Digital X-rays (if needed)
3D X-ray (CT Scan)
Gum disease charting
Oral cancer screening
Discuss your treatment options
Get any questions answered
Get a second opinion
For only $99. (Value $641)
To make an appointment, call 321.259.8000 or click here to request an appointment online.
The Solid Bite procedure
The key to Solid Bite is correct diagnosis and treatment planning. Dr. Sheldon and his team of doctors and staff members have been doing this kind of work for years.
A dental implant is only part of the process. Precise placement of the dental implant and precise planning to support your new teeth is actually a bigger part of the process. And whether you choose to extract all of your teeth or to keep some of your teeth, planning and predictability are what is most important.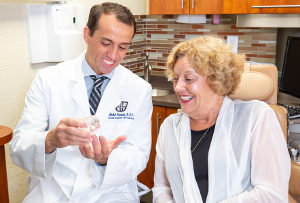 Consultation
Your first step is to come in for a Dental Implant Exam and Evaluation. We will answer all of your questions and address your specific needs and concerns.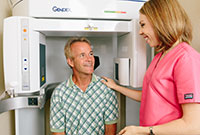 CT scan
We take 3D CT Scan images to get a detailed view of your jaw structure for planning the implant placement. We will also thoroughly explain the Solid Bite implant procedure and answers any questions you have about it.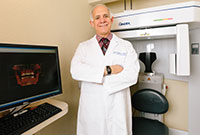 Treatment planning
The first phase of a Solid Bite implant begins well before the surgical procedure. Treatment planning is a must and includes measurement of supporting bone through our in-house dental CT scan and associated computer software.
Ultramodern bone grafting
If bone grafting is needed to build up the jaw, we use the IntraSpin TM system of platelet rich fibrin (PRF) to speed up the bone grafting healing process. And, with our advanced techniques, our surgeons can usually do the grafting at the same time as they place the implant.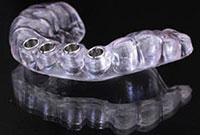 Surgical guides and implant placement
Using leading-edge computer software, surgical guides are created to ensure precision placement of your implant posts. Solid Bite implants placed with custom computer-generated surgical guides are incredibly accurate, compared to "freehand" implant placement.
Not only do the guides take the guesswork out of implant surgery, they also make your surgery minimally invasive. Often, no incision is needed and no suturing is required.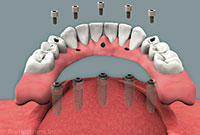 Placement of your teeth
After your implants are in place, you will receive a temporary set of teeth for use until your gum tissues have fully healed, at which time your permanent teeth will be placed. You will be able to chew and smile as you haven't been able to do, and that's the key to Solid Bite!
Extractions and teeth on the same day
Imagine having your bad teeth extracted, implants placed, and teeth placed all on the same day. That is what you can have with the Solid Bite Immediate Solution. All surgery is planned on the computer with precision. That way, most people can have a new smile with transitional teeth fixed in place on the same day as the surgery.
The Solid Bite all-zirconia solution
Once your tissues and bone have completely healed, you will then be ready for the Solid Bite All-Zirconia solution. This is where you can literally custom design your teeth with the help of our expert doctors and laboratory technicians. Shade, shape, and position of teeth are all custom-designed to enhance cosmetics as well as your chewing ability. You'll have input every step of the way as your permanent smile is being created through a programmed schedule of "try-in" visits. Once you and your doctor are thrilled with the final try-in, we then use a computer-guided milling device to mill the zirconia to its final beautiful shape and color.
And what's unique--Our team of specialists and general dentists are all under the same roof, creating your smile together.
Click here to learn more about Solid Bite Immediate for teeth on the very same day as your implant placement.
Solid Bite Before and Afters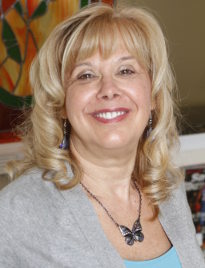 "I can now smile with confidence and am no longer ashamed of my teeth. Dr. Sheldon listens, understands and works to accomplish your needs.
"If another dentist tells you it can't be done, don't give up. Go see Dr. Sheldon."
– Peggi C.