Dental Implants in Melbourne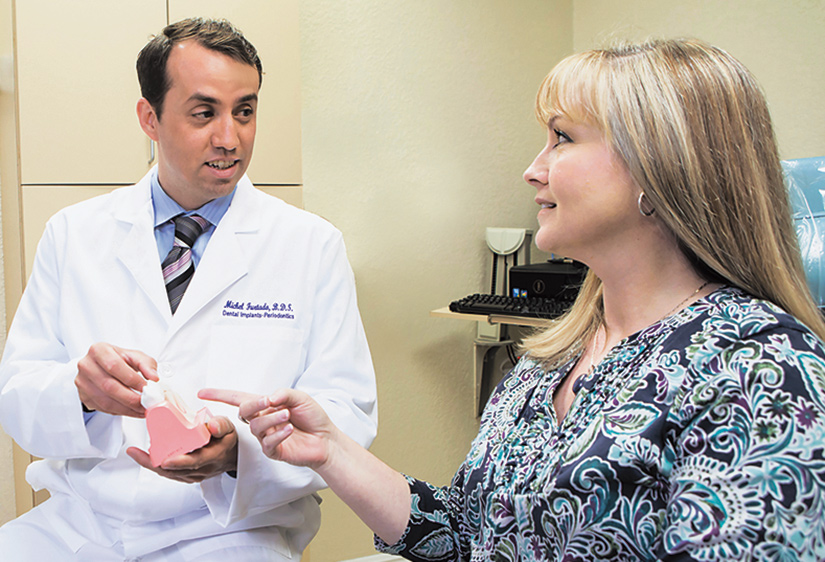 Natural-looking and feeling replacement teeth in one location
Dr. Lee Sheldon, Dr. Michel Furtado, and Dr. Matt Sheldon can handle all of your implant needs at one convenient location. Dr. Michel Furtado, our board-certified periodontist and implant surgeon, is a diplomate of the American Board of Periodontology. This distinction recognizes the highest achievement in periodontics and dental implant surgery. We are the largest dental implant practice in Brevard County!
Dental implants are one of the most durable and natural-looking ways to enhance your smile. An implant is made up of a crown and root, just like a natural tooth.
Implants are natural-looking, feeling and acting as permanent replacements for one or more missing teeth. They can even be used to support a bridge or a denture. And, depending upon the procedure, they can sometimes be done in just one day.
To make an appointment, call 321.802.2810 or click here to request an appointment online.
Experience and knowledge you can trust
Dr. Lee Sheldon has over 25 years of dental implant experience and is a nationally-known speaker, educator, and author. Dr. Michel Furtado, our board-certified dental implant surgeon, has trained extensively in dental implants along with those procedures that will enhance the longevity and aesthetics of your dental implant procedure. Dr. Furtado has innovated enhancements such as computer-designed in-house surgical guides to increase the accuracy of your procedure. Dr. Matt Sheldon, trained with some of the top dentists in the nation, completes the team, providing you with aesthetic and functional results that will allow you to regain your ability to smile and chew. You can get the whole procedure done in our office, including cases involving full-mouth reconstruction.
One of the secrets to our patients' success is the time and planning that we do before your procedure. Dr. Lee Sheldon has been a trailblazer, introducing and perfecting proven techniques and systems. His studies have led him all over the United States, as well as Europe, to bring the best to his patients. One of the biggest advantages to you is that all three doctors meet to plan your case together before your treatment — three opinions by three well-trained, dedicated doctors working together to produce the best result for you.
Who are candidates for dental implants?
Previously, too little bone would prevent people from having implants placed. The dental CT scan has changed that, allowing us to find bone support that otherwise can't be located in traditional X-rays. And with the lifelike software that we have, we can literally design your implant case before your eyes on the computer monitor before we ever do it in your mouth. Bone grafting techniques have become simpler with the use of your own growth factors that we can easily extract from a small amount of your blood. We have a wide array of bone grafting materials always in stock so that virtually anyone can benefit from dental implants.
Whether you need just one tooth replaced, many teeth replaced or full-mouth reconstruction, our team of surgeons and dentists will do everything they can to make sure you are happy with your new and improved smile.
New Patient Special Offer
The first step in getting your implants is a comprehensive exam, X-rays and consultation with our doctors. Our doctors always meet after hours to discuss and plan your case. And because of Dr. Lee Sheldon's national prominence, he has at his disposal the opinions of the leading specialists across the country with whom he consults on a regular basis.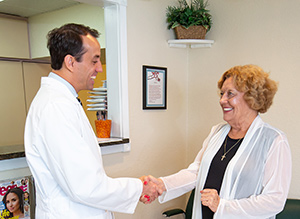 Comprehensive oral exam
Digital X-rays
3D CT Scan
Gum disease charting
Oral cancer screening
Discuss your treatment options
Get any questions answered
Get a second opinion
For only $79! Normally $424.
To make an appointment, call 321.802.2810 or click here to request an appointment online.
Our dental implants in Melbourne FL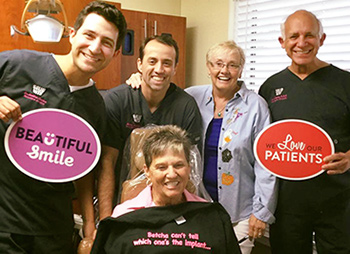 Dr. Michel Furtado is well-equipped and fully trained to perform the various types of advanced procedures done with implants. He can place implants for single tooth replacement, multiple tooth replacement, snaps to support dentures, or complete fixed-in teeth. And because of his experience, he knows which implants will work best for your particular situation. While he has used top-line titanium alloy implants for years, he is one of only a very few surgeons in the southeast placing the all-ceramic dental implant.
Whether it is full-mouth rehabilitation, which can include the latest all-ceramic Solid Bite Premium bridge — down to denture stabilization using snap-type attachments to the denture — you can have the entire procedure from planning to surgery to final tooth restorations all done under one roof.
Metal-free implants
Our office is the only Brevard County provider of the metal-free CeraRoot implants. CeraRoot's zirconia implants are white in color. CeraRoot is 100 percent ceramic, biocompatible and allergy-free. It is also corrosion-resistant and totally bio­inert. We receive referrals from all over Florida for our CeraRoot expertise. Learn more about Metal-Free Implants here.
Cutting-edge electronic technology
Drs. Sheldon, Sheldon, and Furtado use a Cone Beam Scanner, which is a revolutionary low-radiation CT scanning device that scans only your head and neck region. Whether you need one implant, multiple implants or a fixed bridge or denture, the Cone Beam Scanner allows the doctors to visualize tooth relationship to bone and helps "find" bone support not seen in conventional X-rays. It also reduces treatment time, surgical trauma and the need for bone grafting and sinus lifts.
Once your surgery has been completely planned, with every factor taken into account, Dr. Furtado will sometimes create a virtual surgical guide using leading-edge surgical guide software, which makes for less invasive surgery and better implant placement. As a result of all of his careful planning, Dr. Furtado's implant surgery is minimally invasive, comfortable and quick.
Bone grafting
Dr. Furtado has done original research into bone grafting for five years at the University of Toronto. Through his research and training, he utilizes both bone-bank harvested bone as well as the patient's own bone to increase the volume and stability of the implant site. His state-of-the­-art techniques make grafting more comfortable and predictable for you. He also utilizes Platelet Rich Fibrin (PRF), derived from your blood, to speed up the healing process.
PRF is a by-product of blood (plasma) that's rich in growth factors. PRF enables the body to take advantage of the normal healing pathways at a much accelerated rate. The process is done here in the office by one of our phlebotomists and requires minimal blood and is safe since it uses your body's own resources to speed healing. And since PRF is made from your own tissue, it is 100 percent biocompatible.
Implant placement
Implant surgery is a time-tested, safe procedure and there are not likely to be any issues during the surgery.

After the implant is placed, a temporary restoration can often be placed on top of the implant until the site is ready for the final restoration. On your next visit he'll use an Osstell implant stability meter to provide objective data on implant attachment to bone. This advanced device helps prevent premature implant loading, and consequent failure, while allowing for earlier implant restoration.
Options for missing teeth with dental implants
Dental implants can give you the ability to chew and smile confidently with lifelike teeth that look completely natural. No longer will you have to worry or be embarrassed about your smile. They'll feel just like your natural teeth and fit perfectly in your mouth. And you'll be able to say goodbye to pain, infection and sensitivity.
Implants can be used to replace a single tooth, many teeth, or even fitted to help secure dental bridges and dentures in place. There are many possible combinations, making implants one of the most flexible ways to replace missing teeth in dentistry today.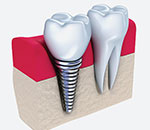 Single-tooth replacement: If you are missing just one, isolated tooth then consider getting a lifelike single-tooth implant to fill the gap in your smile. A single dental implant is the most durable and lasting solution that gives you all the strength of a real tooth.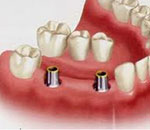 Multiple-teeth replacement: Single implants can be used to replace several missing teeth. These teeth can also be replaced with an implant-supported fixed bridge.
Replacing all your teeth on one or both arches
If you're having trouble with your dentures, you're not alone. Many denture wearers have discovered "Solid Bite" permanent fixed teeth. With Solid Bite, teeth are fixed in place with no glues. There are various ways to go about replacing all of your teeth with Solid Bite. During your consultation, Dr. Lee Sheldon, Dr. Michel Furtado, or Dr. Matt Sheldon will advise you on which implant treatment is best for your particular situation.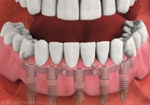 Implant-Supported Dentures: A conventional denture is hard to use for some patients since they tend to slip. An implant-supported denture is removable and fits over a bar placed in the jaw and is then securely clipped into place by attachments. Many people discover that their confidence is improved with implant-supported dentures because of improved esthetics as well as better function when it comes to eating and speaking.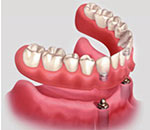 Denture Stabilization: This might be your best option if you already have dentures but they are loose or uncomfortable. Denture stabilization stops denture slippage while improving your ability to speak and chew. Your current dentures can be stabilized by placing a couple of implants with snaps on the lower and four implants with snaps on the upper arch of your mouth.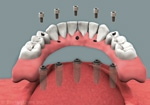 Solid BiteSM procedure. Maybe you are faced with massive tooth loss and are weighing your options. If so, then the Solid BiteSM procedure might be right for you. This procedure can secure new teeth without the need for a bone graft before implant placement. So if you have poor bone density levels, it is not a problem with the Solid BiteSM procedure.
Dental implant Before and Afters




Save Your Teeth or Replace Them with Implants?
Rorie has received 3 dental implants.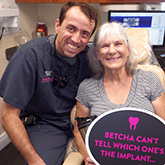 "I have just completed my third implant with
Dr. Matt Sheldon and Dr. Michel Furtado. The third
implant was to replace a bridge and after having done two implants earlier there was no question in my mind to replace my bridge with an implant. I can't say enough about the friendly staff and how comfortable they make you feel. The whole procedure is painless and I would never consider anything else but an implant should the need arise in the future, nor would I consider going anywhere else but to Dr. Matt and Dr. Furtado. I trust them to have my best interest in mind."
— Rorie, a current and future patient