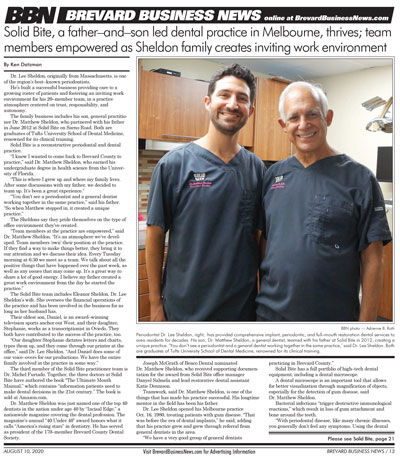 Dr. Sheldon was featured in Brevard Business News publication. Where he was commended for creating a type of unique practice: "You don't see a periodontist and a general dentist (Dr. Matt Sheldon) working together in the same practice," said Dr. Lee Sheldon.
Read the full article here: Brevard Business News Article.
Additionally, Dr. Sheldon was featured in Florida Today for his Teeth-in-an-Hour procedure. He was the first surgeon in Central Florida to do this procedure. Teeth-in-an-Hour is a procedure where dental implants are placed and permanent teeth are screwed onto the dental implants all in a single day.
Read the full article here: Pearly whites in a flash.
Furthermore, Solid Bite was featured in another Brevard Business News article on charitable giving passing $200,000 since launching its campaign several years ago.
"We're grateful to the people here, who have been so faithful to us, supporting our practice all these years and establishing us in the community," said Dr. Lee Sheldon. "One way we show our appreciation is to contribute regularly to the community's well–being through charitable causes. We're very happy to do so and this milestone means a lot to us."
Read the full article here: Brevard Business News.

Getting the word out about dental health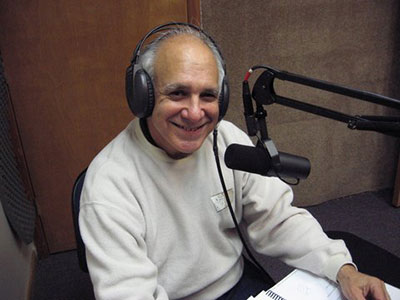 Dr. Lee Sheldon has a long history of using the printed and spoken word to educate people on healthcare issues, especially those concerning oral healthcare. He has long been featured in the media, including his television show on healthcare that ran for eight years. He co-hosted a radio program for a couple of years, as well. He was also a regular contributor to the Health Section of Florida Today. He is now a regular columnist for Senior Scene magazine and a monthly guest on the Focus on Seniors radio program.
Today, Dr. Sheldon works with specialists around the country through his organization, The Institute for Dental Specialists. He and Danyel, our office manager, have spoken at national and regional meetings in nearly every part of the U.S.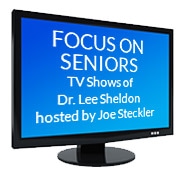 Focus on Seniors TV show
Currently, Dr. Sheldon is a regular featured guest on the Focus on Seniors TV and radio
programs. You can also find his column every month in Senior Scene magazine.
Episode #1 The Ultimate Mouth Manual
Episode #2 Dental Care for Seniors
Episode #3 Dental Restoration
Episode #4 Overmedication
Episode #5 Weight Control
Episode #7 About Helping Seniors of Brevard
Episode #8 Dental Implants
Episode #10 A Beautiful Smile
Episode #11 Too Many Teeth Being Extracted?
Episode #12 Principles of Periodontal Treatment
Episode #13 Restorative Dentistry
Episode #14 Smile Form & Function
Episode #15 The Dental Experience
Episode #16 The Importance of Dental Diagnosis
Episode #17 The Value of a Second Opinion
Episode #18 Implants Not Always the Solution
Episode #19 Periodontal Disease
Episode #20 Inclusive Dentistry
New Episode #21 Helpful Office Team
Focus on Seniors Radio
Dental Discussions - 01/14/16
Dental Implants & Periodontics - 07/14/16
Marketing Dentistry - 11/10/16
Value of a Second Opinion - 03/09/17
Advances in Dental Implants - 04/13/17
Cost of Healthcare - 05/11/17
Dental Talk with Dr. Lee Sheldon - 06/08/17
Have Your Teeth Extracted? - 09/10/20
Dental Talk with Dr. Lee Sheldon - 04/13/22
Does Dentistry Have to be Expensive?
Is an Implant just a Dental Implant?
What Are You Hearing About Root Canals?
Why Fractured Calculus is Dangerous
Why Treatment Coordinators Make All the Difference
Talks by Dr. Sheldon
Dental Disease and Sinusitis
Insider's Story on the Secrets of Periodontal Disease Treatment
How to Keep Your Implant Healthy And Trouble Free
What Are Snap-On Dentures And Their Advantages
How a Loose Lower Denture Can Be Snapped Into Place
CT Scans and Treatment Plan
Media Misconceptions On Periodontal Disease
Video gallery
A Presentation by Dr. Lee N. Sheldon, Periodontist
Introduction to Dental Implants
How to Avoid Remaking an Implant Crown
Who Should do your Perio Maintenance Care
Dental Implant Presentation
Lee Sheldon Payment Options
Are Dental Implants the Right Treatment for Me?
Possibilities with Periodontal Plastic Surgery
Dr. Sheldon's New Commercial
Dr. Sheldon's TV Commercial - 2 May 2011
Ultimate Mouth Manual TV Commercial
Dr. Sheldon's TV Commercial - No Goop
Cosmetic Procedures for a Smile Makeover
Learn a new term: "Inclusive Dentistry"
Happy Hanukkah from Solid Bite