About Our Practice
Serving the area with gum treatment and dental implants for three decades
Using the latest innovations in dentistry, periodontist Dr. Lee Sheldon has been successfully treating gum disease and placing implants for Florida residents, and even out-of-state patients, for over 30 years. Passionate about his profession, Dr. Sheldon has found the most effective but at the same time minimally invasive ways to help his patients regain a healthy, attractive smile. He is especially known for his minimally invasive gum disease treatment and for his Solid Bite teeth replacement procedure that can give a patient a solid set of teeth with just a few dental implants, sometimes in just one day!

Knowledgeable and experienced full dental rehabilitation
Drs. Sheldon, Sheldon, and Furtado have helped many people improve their quality of life by rehabilitating their mouths to full function and beauty. Patients receive a restored ability to eat any food, often helping them improve their diet. The doctors have removed gum disease, jaw and tooth pain, and given patients teeth that look, act and feel fully natural, and don't have to be taken out at the end of the day.

Providing comprehensive dental care
In order to help his patients get the best in dental care, Dr. Sheldon introduced his son, Dr. Matthew Sheldon, to our practice to provide excellent care for our patients' general and cosmetic dental needs. Rounding out our doctor team is Dr. Michel Furtado, a diplomate of the American Board of Periodontology. Together, this superb team of doctors create beautiful smiles and solid bites in even the most challenging of cases.
Minimally invasive treatment with the latest technology
Drs. Sheldon, Sheldon, and Furtado have equipped their practice with state-of-the-art equipment to provide quality, comfortable and minimally invasive dental care. For moderate to severe gum disease, our practice uses a special endoscope, used by only 100 dentists in the United States, that allows our doctors to fully eliminate gum disease without any actual surgery. No cutting or suturing involved! Our office has successfully helped many hundreds of patients overcome their gum disease with this breakthrough technology. We use a special low-radiation CT scanner to capture 3D images of the jaw area for precise planning of dental implant placement. These images allow us to plan the exact location and angle of the implant placement, and to create a surgical guide that the doctor uses on the day of surgery. This makes surgery day a fast and comfortable event as Drs. Sheldon and Furtado can do minimally invasive surgery with pinpoint accuracy and minimal post-op discomfort.
Honest, competent care recommended by other dentists
Over the last 30 years, we have earned a very good reputation within our community. For dental implants and periodontal therapy alone, well over 100 dentists have referred their patients to us. They know that we will not "sell" you dentistry you don't need, and that we will do a very good job on the dental work that you do require.
Attentive, friendly and caring staff
Our well-trained staff has one purpose: making sure that you get high-quality dental care. From the front desk receptionists to the dental hygienists and dental assistants, everyone is here to make your visit a comfortable and pleasant one.
Meet our team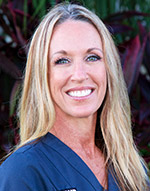 Danyel Salmela – Practice Manager/ IV Therapist
Danyel has been a dental assistant for over twenty years and loves it! She has been a part of our practice for over seventeen years. She most enjoys taking care of patients and making a difference in a patient's smile makeover. In her free time, Danyel enjoys traveling and spending time with her husband and six children: Taylor, Andrew, Kylie, Brandon, Abygail, and Isabella. She enjoys watching them grow and exploring new things with them. She says, "Working for Dr. Sheldon and his staff is very rewarding. We all work great together and enjoy providing the best treatment possible for all our patients."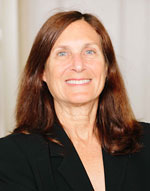 Eleanor Sheldon – Accounts Manager
Eleanor grew up in Providence, Rhode Island. She met Lee in college and they married in 1973. Their oldest son, Daniel, is a television sports anchor; their daughter, Stephanie, works as a transcriptionist for our office; and their youngest son, Matthew, is a general and cosmetic dentist for our office. Eleanor has been working in the office since it opened in 1980. In her spare time, she enjoys playing tennis, biking, reading and taking care of her many foster cats.
Michelle Furtado – Financial Manager
Michelle was born in Toronto and raised in Brazil. She earned her degree with honors in Forest Engineering at the Federal University of Vicosa, Brazil. Michelle and Dr. Michel Furtadon married and moved to Toronto to pursue her Master of Science in Forestry at the University of Toronto. She then worked for the Connecticut Forest Legacy Program (Department of Energy & Environmental Protection) while Michel completed his periodontal residency at the University of Connecticut. Michelle and Michel moved to Brevard County in 2015, raising their two wonderful children, Alice and Ian. In her spare time, she loves to spend time with her family and friends, travel, and enjoy concerts with her favorite artists.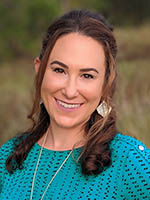 Stephanie Wintercorn – Marketing Manager
Stephanie was born and raised in Melbourne, Florida. She graduated from Florida State University in 2005. Her father (Dr. Sheldon) is very happy to have her working in the office. In her spare time, Stephanie enjoys traveling with her husband, baking, knitting, and caring for her two dogs. She says, "My favorite part about working in Dr. Sheldon's office is seeing all of the patients' healthy, post-operative smiles!"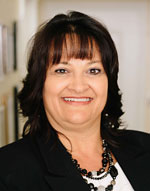 Jennifer Ashley – New Patient Specialist
Jennifer says working for Dr. Sheldon is like no other dental practice. Dr. Sheldon gives her the ability to help patients. Being a "chicken" of dentistry herself, she can calm patients that have fears and reassure them that they are in the best of hands with Dr. Sheldon and his staff. "They provide the patient with superior treatment in such a sincere and caring way," said Jennifer. She loves the whole atmosphere that Dr. Sheldon provides. When not working, Jennifer spends her time involved in her son's activities and loves spending time with family and friends!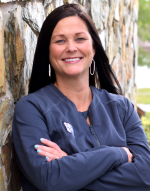 Trisha Heaney - New Patient Specialist
Trisha was born in Fort Knox, Kentucky to a military family. She lived in Germany and Alabama before moving to Melbourne in 1986. In 2001, she married Kyle, and together they have two sons: Kaiden, a firefighter, and Collin, who attends Melbourne High School. Trisha has spent many hours in the bleachers watching football and baseball games, cheering them on. She loves spending time with her family and two dogs, Bella and Jersey, by the pool. Trisha has worked in the dental field for 21 years. She just recently joined the staff at Dr. Sheldon and Furtado's office and already feels right at home.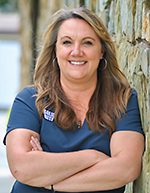 Amy Zeszutko – Front Desk Receptionist
Amy has worked in the healthcare field for nearly two decades. Although new to the dental
industry she brings to our team a wealth of knowledge in managing the "patient experience."
Originally from Central New York, Amy and her family couldn't be happier calling themselves
Floridians for the past 25 years. In her spare time, Amy enjoys reading, spending time at the
beach, and just being with her family.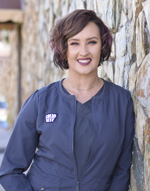 Lindsay Ritchey – Front Desk Receptionist
Lindsay is our front desk receptionist; she enjoys making patients feel welcome in our office. She came from Endodontics but before that she was a bartender in fine-dining restaurants for 14 years. Lindsay was raised on the Eastern shore of Delaware. She took Culinary classes at the Art institute of Philadelphia for 2 years and earned her associates degree in science. She later met her husband who is in the USAF, together they have a 10-year-old son named Graham and currently live on Patrick Space Force Base. She spends her free time painting, refurbishing used furniture, as well as spending time with friends; cooking and playing card games.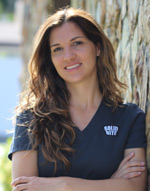 Amberly Conyers – Front Desk Scheduler
Amberly is new to the dental field, but not to serving patients. She has worked in the pharmacy industry for many years and loves helping patients. She loves that now she gets to have an amazing opportunity to play a part in creating beautiful smiles that literally change lives and do that with a great team of professionals! Amberly says, "It's such a rewarding job, everyone here is so patient and so nice, it makes coming to work something to look forward to!" When she is not at the office assisting patients and staff with their scheduling needs, she enjoys painting pottery and spending time with her son, Leo, and daughter, Lia. They enjoy going to the beach and getting together with family. Amberly is one of seven children in her family. She is the middle child and the only girl.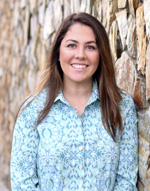 Jenifer Sheldon – Quality Control Officer
Jenifer was born in Melbourne but grew up on the island of Kauai. She attended the University of Florida where she graduated with honors with a degree in Health Science. Jenifer and Dr. Matt moved to Boston after graduation where she worked at Boston Children's Hospital and completed her MBA at the University of Massachusetts. Jenifer and Dr. Matt have 3 children. In her spare time she enjoys spending time with her family, reading, and traveling.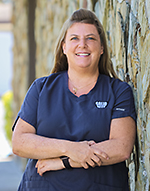 Kathy Crowley – Front Desk Scheduler
Kathy has been in the dental field for over 18 years. She recently moved from her home state of Maine looking for warmer weather and no snow. What she finds so refreshing about working at Solid Bite is how everyone is so nice and friendly. Everyone works as a team, but it's the patients that make coming to work worthwhile. When she is not at the office assisting patients and staff with their scheduling needs, she enjoys reading, walking her Siberian husky, and enjoying the weather. She has two children. Her oldest is Brianna and Devlin is 20 months younger. Kathy is one of six children in her family. She is the youngest and the only girl!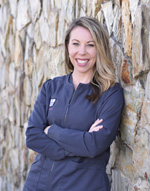 Courtenay Zambrano – Surgical Coordinator/Manager of
Clinical Services
Courtenay was born in Melbourne and raised in Tallahassee, Florida. She attended the Dental Assisting Program at Brevard Community College, where she earned her Expanded Functions certificate. She has been assisting in the dental field since 2006. Courtenay enjoys spending time with her husband, Michael, and girls, Malia and Codie. Courtenay also loves to sing and play the piano, both of which she does at her church each week. Aside from music, she enjoys shopping, volleyball, and spending time with her family. Courtenay says, "Our doctors are great doctors that really enjoy what they do. They're not only concerned about a patient's oral health, but a patient's general health as well. They get to know patients on a personal level and treat them as if they've known them all their lives. They treat the staff that same way too! We really are a big family here."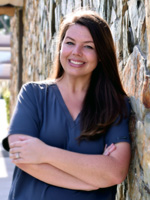 Morgan Savage-Kuntz – Registered Dental Hygienist
Morgan Savage-Kuntz was born in Santa Ana, California. She grew up mostly in Melbourne Florida from 1995, with interim stops in Seattle and California. Morgan has been in the dental field for 14 years, starting out as a Dental Assistant. She fell in love with dentistry and pursued her passion to study dental hygiene. She graduated from Eastern Florida State College in 2016 with her degree as a Certified Registered Dental Hygienist. Morgan strives to give her patients the most comfortable experience while improving their oral health. She is married to her husband, Chris. Together they have two daughters, Ella and Millie. Her hobbies include binging Netflix, reading, and spending time with her large extended family".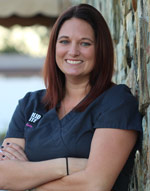 Katie Dennison – Dental Assistant
Katie was born and raised in Springfield, Illinois. She married right out of high school to an airman. She has lived in Tucson, Arizona, Warrensburg, Missouri, and here. She has two little boys and a sister that she is raising. She loves to be outside either at the beach, in the pool, or on the boat. She also enjoys watching her kids play baseball.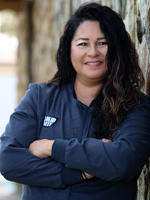 Laura Sikes - Dental Assistant
Laura was born and raised in Fairfield, Connecticut. She has just recently moved to Florida. She's a mother of two boys, Luke and Sam, who she loves greatly, and are truly her treasures. She loves to take any chance she can to spend time with her two sons in Connecticut. Laura comes to our office with twenty-seven years of general dentistry experience. She has a passion for serving God as she serves others. Laura says, "I am so grateful to be working with an amazing team doing amazing work, helping patients one smile at a time. I am so blessed to have been brought by God to this office, and humbled by the abundance of talent of doctors and staff within this office. So glad to be here!"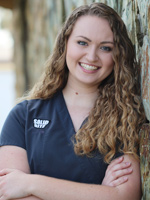 Ashley Porter - Lead Surgical Assistant
Ashley has been a part of our Solid Bite family for over four years. She began working at the front desk, before moving to clinical and becoming a surgical assistant. Ashley's favorite part about coming to work every day is working with such a wonderful team of doctors and staff. She loves seeing the smiles on our patients' faces every day, while knowing we are giving them the best possible treatment that is unique to each patient's specific needs! Ashley's hobbies include: spending time with friends and family, watching movies, going to the beach, and trips to Disney!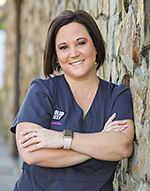 Rachel Duff - Surgical Assistant
Rachel was born and raised right here in Brevard County. Although she is new to the dental field, she has a lot of experience in patient care and has worked as a medical assistant in cardiology for over 17 years. Rachel loves helping patients and is excited to start this new chapter of her life as a surgical assistant. Rachel says, "I enjoy working with this amazing team and being a part of giving patients back their smiles!" In her spare time, Rachel enjoys crafting, spending time with her two sons Caleb and Connor and face-timing with her siblings, nieces, and nephew.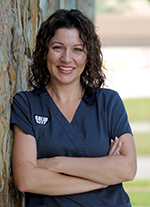 Danielle Perez - Clinical Assistant
Danielle was born in Cape Canaveral and has lived in Melbourne her whole life. Danielle was a household engineer that wore many hats and had 2 bosses and was underpaid. Then one day she was blessed to be able to change her career. Danielle loves working in the positive atmosphere helping patients. When she isn't working she loves to spend time with her children and fur baby. Her hobbies include reading, movies, running, and foodie.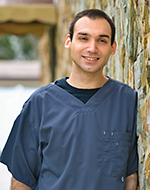 Garrett Greenblatt - Sterilization Technician
Garrett was born and raised in Melbourne, FL. He is new to the dental field but has enjoyed learning all about the practice, working with all the great staff here, and appreciates this wonderful opportunity. In his spare time, Garrett enjoys reading fiction novels, cooking gourmet meals, and singing all of today's newest hits.
Our Staff is dedicated to you. See what they have to say.