Teeth Whitening in Melbourne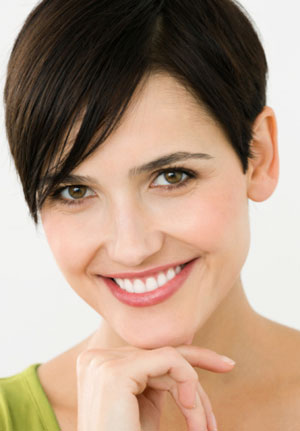 Get a dazzling white, confident smile in the comfort of your home
Are your teeth dull, yellow, stained or discolored? Your lifestyle and the aging process can stain and darken teeth, which can make you look older than you actually are. The answer to your problem is 21st century high-tech teeth whitening.
Our doctors can whiten teeth that have yellowed due to drinking coffee, smoking tobacco or from merely age itself with the KöR professional teeth whitening system. We offer the teeth whitening system with the highest levels of hydrogen peroxide that will reach deeper stains and give you a whiter, brighter smile for a longer period of time.
GLO Science PRO whitening
We are happy to have the latest in whitening technology. GLO Science PRO WHITE can produce a whiter smile today with patented GLO technology. It produces an improvement in whitening of eight shades in only one hour. The special GLO technology combines both heat and light through the use of a special mouthpiece, which activates the Whitening Gel and provides fast, efficient and long-lasting results. You get to keep the mouthpiece, which you can use at home to maintain your beautiful, white smile.
With GLO Science Professional, there is:
No sensitivity
No trays
No lab costs
Half the chair time
Let KöR whiten and brighten your smile
We use KöR systems to provide our patients with cost-effective, fast and easy teeth whitening. KöR offers successful ways to whiten smiles from any level of discoloration, from effective take-home kits with a single in-office treatment for typical patients to spectacular removal of tetracycline stains and everything in between.
We will take digital impressions of your teeth to create whitening trays customized for your smile. You'll also get full instructions on how to use them for maximum effectiveness.
We make goopless impressions
Our intraoral scanners use a wand with a tiny camera on it that takes thousands of digital pictures of your mouth and teeth. The scanner captures all the same areas that are captured with traditional goopy impression material, but it is more accurate and faster than using the goop. This benefits patients in many ways; it's precise, you can take breaks in the middle of the impression if you need to, and there's no mess.
How KöR works
You will wear your custom-made whitening trays for as little as fifteen minutes, twice per day, repeating this procedure for about 5–10 days depending on your smile's requirements. If your teeth are heavily stained, you will likely see a big change by the end of your KöR treatment.
KöR is widely recognized as the world's most effective whitening system. It currently uses the highest strength of hydrogen peroxide of any take-home tray system in order to provide optimal results (hydrogen peroxide allows oxygen to enter the enamel and dentin of teeth, causing the stains to be lightened). KöR is also the first and only teeth whitening company to insist on continuous refrigeration of their whitening gels from the moment of manufacture until they arrive cold-packed at our dental office, protecting them against the potency-robbing damage of heat during storage and shipping.
KöR-Seal™ trays are specifically designed to fit your teeth snugly and seal both saliva and sulcular fluid out (these fluids can destroy the potency of the whitening gel on contact). As a result, KöR's whitening gels provide 6–10 hours of whitening activity compared to just 25–35 minutes from other systems.
Why do I need teeth whitening?
Your teeth tend to become discolored as you age and live your life. Here are a few ways your teeth may become discolored over the years:
Poor dental hygiene is one of the main reasons why your teeth may appear dingy and discolored. Those who do not brush or floss properly run the risk of having yellow teeth.
As you age, the outer surface of your tooth wears away, leaving the naturally yellow dentin showing.
Food and drinks, such as cola, red wine, and coffee, leave stains on the enamel.
Certain diseases and medication treatments can cause tooth discoloration.
Tobacco smoke significantly stains the enamel of the tooth.
Genetics plays a role in the color of your teeth.
To make an appointment, call 321.802.2810 or click here to request an appointment online.