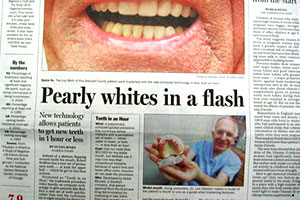 New technology allows patients to get new teeth in 1 hour or less

BY SUSAN JENKS
FLORIDA TODAY

Instead of a denture flapping around inside his mouth, Robert Redfern has a new set of permanent teeth — at least the upper half — which he got in less than an hour.

Promoted as "Teeth in an Hour," the trademark procedure relies heavily on computer technology to give patients like Redfern a new set of teeth quickly, rather than wait the customary six to eight months for dental implants to heal.

"The whole procedure is a paradox," said Redfern, an active retiree in Suntree and the first patient in Central Florida to get his teeth from a Melbourne dental team this way. "It's so simple and yet so complex, you can't believe it."

The simplicity apparently comes in the concept; the complexity in carrying it out. Dentists need several days of training to do the treatment.

Like sizing up holes in a desktop, Melbourne periodontist Dr. Lee Sheldon used a computer to preplan Redfern's $25,000 procedure, customizing the placement of each metal implant inside his upper mouth, according to several images taken through computerized tomography, or a CAT scan.

One set of pictures showed his denture alone; the second set included Redfern wearing the denture with radio-opaque markers inside its plastic housing that the scan picks up and "reads."

By combining these two images inside his computer, using the manufacturer, Nobel Biocare's, propriety software, Sheldon came up with a design for the best spots for each implant — the underpinning for Redfern's new prosthetic teeth.

"I can line up an implant and angle it any way I want on the computer," Sheldon said. "If we are satisfied with the appearance of an original denture, for example, we would duplicate it." Otherwise, a new design is created.

In either case, the design then goes by email to the Swedish manufacturer for creation of a surgical guide. And the guide is what Sheldon temporarily screwed into Redfern's jaw and later removed on the day of the treatment.

"It allowed me to drill the holes exactly where the implants are supposed to be," he said.

The design also helped to prepare new teeth ahead of time, so they were ready to go once the implants were completed.

"His hardest work was on the computer — not the patient," stressed Dr. Ronald Richardson, a Melbourne dentist who took part in the Dec. 8 surgical procedure in Sheldon's Sarno Road office.

"It's unbelievable how quick it was," said Richardson, who is Redfern's regular dentist. "After Lee drilled the holes and placed the implants, I adjusted the new teeth (for cosmetic appearance and bite), and we all walked out."

For his part, Redfern said, he didn't feel a thing because he was lightly anesthetized for the procedure.

"But I could hear everything going on," he said. Existing dental-implant systems go back more than 30 years, and many companies, other than Nobel Biocare, make implants, said Dr. Herbert "Hank" Towle, a professor and director of the graduate program in periodontics at the University of Florida College of Dentistry.

"What this system captures is a lot of computer-assisted technology," Towle said.

Additionally, where other companies are not yet competitive, he said, is in the technology that allows the company to create a surgical guide "as precise as this," and the prosthesis itself, "a final superstructure" supported by the implants.

"The patient walks out with a new denture sitting on these implants," Towle said "This is a one-time system. It short-circuits many time constraints."

Towle described the ideal patient as "folks missing all their teeth and wearing dentures" — not someone needing just one or two implants.*

But, he said, while "this is a good alternative for some people without teeth," potential patients still have to have sufficient bone for implants, so some may need bone grafts first.

However, Dr. Thomas Balshi, director of the Institute for Facial Esthetics in Fort Washington, Pa., said the software Nobel Biocare developed eliminates this problem most of the time.

"The software allows us to look at patients' bone structure, carefully, beforehand," he said. "And we've done some incredibly challenging cases." 200 doctors trained

As a training site for the Teeth in an Hour procedure, the institute has trained about 200 doctors nationwide so far, including Sheldon, according to Balshi.

"It's a pretty advanced procedure, which works well with doctors with a lot of implant experience," he said. "Afterward, there is a healing process still, but with the proper placement of implants and their (the company's) new surface coating," there is rapid bone growth around the implants and a high success rate in the 50 patients treated to date.

"It's very new," Balshi said. "We've only been doing it for about three years, and it was only launched as a commercial product last year," after approval from the U.S. Food and Drug Administration in late 2004.

Like Towle, he agreed that the procedure "unquestionably" works best in people who have no teeth and have been wearing dentures for a while, rather than those missing just a few teeth.

And, he conceded, it is expensive — $25,000 to $35,000 for just the upper arch — with no insurer covering the cost.

But even in a conventional implant system, Balshi and others said, that price is common, depending on the number of implants needed and the material used for the veneer of the teeth.

One-shot deal

In Redfern's case, Sheldon said, the computer software enabled him to avoid having to do a sinus lift — a fairly common problem in implant procedures — in order to put a metal post in, thus saving his patient "money, time and pain."

And infections, while possible, are extremely rare, he said, usually headed off by a course of antibiotics.

As for Redfern, a former high school physics teacher in upstate New York, he had no complaints.

Although he joked about having to smile for the photographer, he described his new teeth "as just the same as having good natural teeth," and himself "as the ideal patient."

"The idea is to do it on a patient like me who has no patience," Redfern said. "Everything's done all in one shot and it's over."

Contact Jenks at 242-3657 or sjenks@flatoday.net
http://www.flatoday.com/
* Teeth In An Hour can now be used for patients missing two or more teeth.